'Green Cauldron' Waterpark
BIG4 Tweed Billabong Holiday Park has raised the bar when it comes to water parks. We are proud to bring you what we believe is Australia's premier holiday park water playground.
This incredible new feature steps beyond just providing a source of endless entertainment. It's wonderful design takes you on a journey around the magnificent landscapes of the surrounding area.
Just like our kitchen and lounge, the waterpark is themed around our local area named 'Australia's Green Cauldron' by Tourism Australia.
These surrounds were once a large volcano and are now home to the glorious formation known as Wollumbin-Mount Warning. This is the centrepiece of a national park of the same name and forms part of a World Heritage area.
Why the history lesson? Well, Mt Warning-Wollumbin is the inspiration for one of three themed areas that make up our sensational water park. This area of the water park includes several impressive water slides.
The fascinating rocks of Fingal Head are at the heart of another themed area and feature a tipping bucket and slide.
The marine life that can be spotted around Cook Island, just offshore from Fingal Head, is the inspiration for the third and final area. It boasts a toddler play section, complete with a froggie slide.
With something for all ages, our superb water park will provide younger guests with hours of entertainment. It is backed by ample space for adults to relax while watching their children at play.
The Waterpark is open to guests of the park and their day visitors only. Come and stay for a few days and try it out.
The Billabong
The Billabong is the heart of our park, both physically and emotionally. It's what we're named after and the fun radiates from it.
Try your luck with some fishing, have a swim or hire a kayak or stand-up paddleboard…there's something here for everyone.
There are so many activities in and around the Billabong.
Grab a kayak or stand-up paddleboard or any floaty you can find and get out on the water. We have kayaks and SUPs for hire, or you can bring you own fun (non-motorised only).
Try your luck fishing from the edge of the Billabong or from the floating pontoon.
Relax on the deck of the 'Kitchen and Lounge' and take in the view.
Watch your kids have fun whilst you read a book and relax.
Just swim or float the day away!
Camp on one of our Billabong sites and wake up each morning to this beautiful view.
Hire Equipment For The Billabong:
Kayaks – either a family or single size: $8 for 2 hours.
Stand-up paddle boards: $8 per hour
Fishing rods: $8 for 2 hours
Lizzie's Lagoon
Our pools are some of the best in any park in Australia.
One pool is resort style with beach entry, and is covered with shade sails making it ideal for the little ones. Add a bubble cove and waterfall – perfect for relaxing.
The other pool is where the action is. Kids love the slippery dip and large step area. This pool is heated to 28 degrees in colder months (April-September).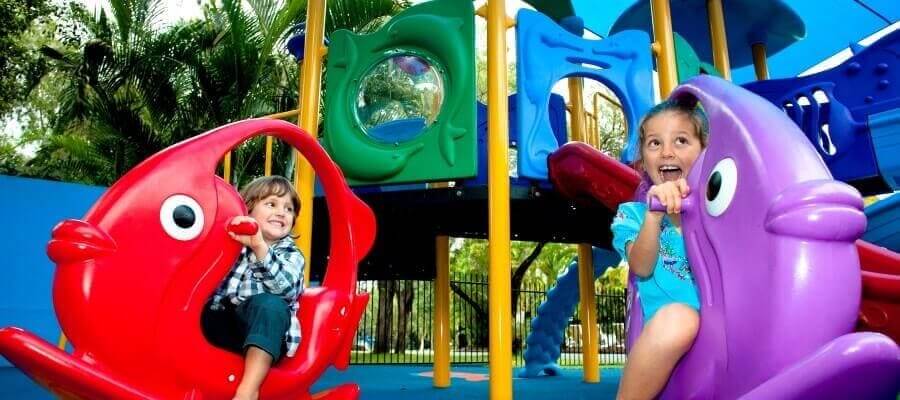 Coral Cove
Welcome to Coral Cove, our underwater themed play area designed specifically for the under 6's.
Complete with indoor and outdoor playgrounds and toys, kids can be entertained for hours.
The area is also has tables and chairs for parents to sit back and watch, read a book or have a coffee and chat whilst the kids play.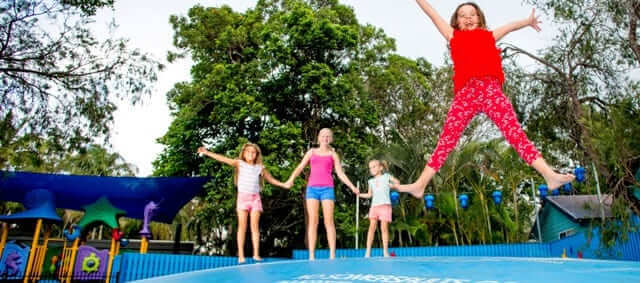 Jumping Jellyfish
Kids and adults have an absolute blast on the jumping pillow.
Our pillow is 'underwater themed' to match the 'Coral Cove' playground next door.
We have also added a toddlers sand play area and more tables & chairs for the parents to relax or read a book while the kids tire themselves out.
Even the teenagers love it…just don't tell them it's great exercise!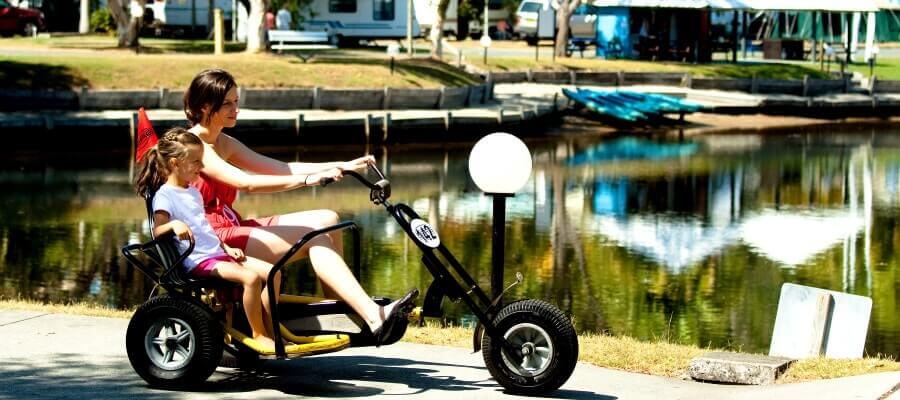 Chopper Go Karts
Kids and adults have a blast on our Go Karts.. We have a 4 seater family go kart to get the whole family involved. 
We also have 2 seater and single seat karts. Race your family and friends or just take a leisurely ride around the park.
More exercise than you planned to do on holidays! Our go karts are available for hire by the hour from reception.
Kids need to be at least 7 years to ride a cart by themselves, and an adult is required to ride the family kart. Helmets and shows are required.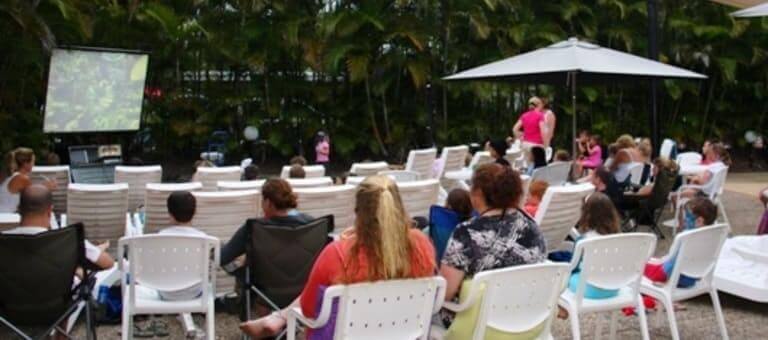 Movies By The Pool
Every Saturday night (weather permitting), we show a movie by the Pool on our big screen. During school holidays, we show movies 3 nights per week.
So pull up a sun lounge, bring along your blanket and some popcorn, and rug up for a night of family fun.
Please Note:
Movies are shown weather permitting. If rain looks imminent, the movie will be cancelled.
No glass allowed in the pool area.
Kids must be supervised by an adult at all times.
No swimming whilst the Movie is showing.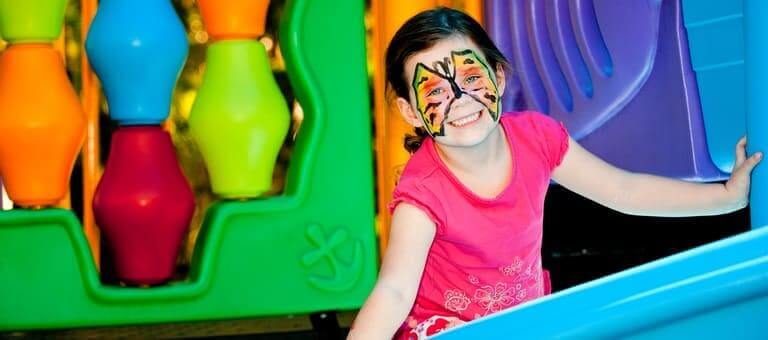 'School's Out' Kids Club
During school holidays Kids Club provides organised activities for children from 4 years of age such as craft, tie dye, sand art, and treasure hunts. Play a game of soccer or test your cooking skills with make your own pizzas or cookie decorating. 
Most supervised activities are complimentary however, some craft and cooking activities attract a fee.
Kids Club is generally held in the marquee behind the pool unless otherwise stated on the program. Please sign your kids up the day prior in reception so we can have adequate staff and equipment available.
What to bring for Kids Club? Old clothes, hat, sunscreen, shoes and a water bottle (Paint does not always wash out of clothes).
All Kids Club sessions are subject to minimum numbers. Please sign up your kids for each session by 6pm the day prior.
Any sessions with less than 8 kids signed up may be cancelled.
Kids Club is designed for kids over the age of 4. Kids under that age may attend only with full parental supervision.
Some craft is a little more difficult, and is great for kids over 6 years only. Once again, if you wish younger children to attend, parental supervision is required.
Kids must be walked to Kids Club and signed in by their parents or guardians. Kids must also be collected and signed out of kids club. This is extremely important due to the pool area access.
Kids Club is a fun (and predominately free) service we provide for your kids. We are not however a Child Care Centre. Please do not leave the park whilst your kids are at Kids Club. You may be called to collect your child if an issue arises.